Travel safe during COVID-19
What you can expect during your stay:
All linens sanitized in high temperature wash.
Face masks required for staff in public areas.
Hand sanitizer available to guests & staff.
Regularly sanitized high-traffic areas.
Staff required to regularly wash hands.
Regular temperature checks for staff.
Rooms are highly and completely sanitized after each departure.
In order to avoid unnecessary contact of cleaning staff with possible case and further transmission, non-regular room cleaning during the stay is suggested.
Elimination of daily cleaning and change of linen and towels is at the request of the customer.
non-residents are not allowed visiting the hotel rooms.
Because of the purpose of public health protection, the accommodations must keep a record of staff members and all people staying at "SIROPOULOU COMPLEX" and "SARTI PREMIUM COMPLEX".
A note from "SIROPOULOU COMPLEX" and "SARTI PREMIUM COMPLEX"
ESCAPE WITH CONFIDENCE Quest to provide safe environments for our Guests and team is always our top priority, as we remain committed to our heartfelt soulful service. We use enhanced cleanliness practices to ensure that your stay with us is safe, clean, and comfortable. As we are managing a Public Health issue, we expect the full support and co-operation of all our stakeholders – our guests, our team, and our business partners. Only through our collective efforts can we successfully combat the spread of COVID-19 and keep each other safe and healthy.
Wellness wishes,
"SIROPOULOU COMPLEX" and "SARTI PREMIUM COMPLEX" Families.
RELATED CERTIFICATION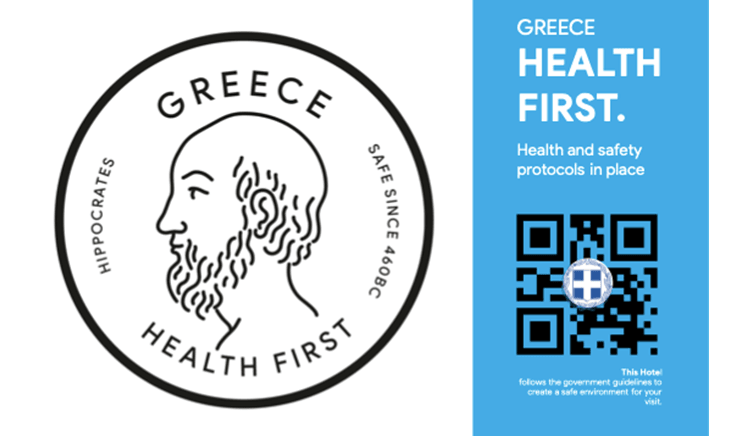 After we have been trained from the Ministry of Tourism due to the health and management protocols for COVID-19, We have been certified with the "HEALTH FIRST" related certification.
We have received the needed training:
About the ways of which the virus is transmitted.
About the communication approaches to visitors/customers.
About the maintain and practice the basic protocols to avoid transmitting.
About the behavior and actions needed to be taken in case of illness by the staff.
About following a special Action plan for dealing with a suspected case provided from  the National Organization for Public Health.